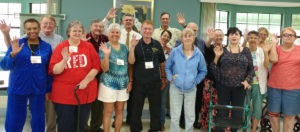 I joined because . . .
'My daughter went to a UU church a block from her home and asked me if I wanted to go. I enjoyed it there. They talked about peace and love and the outdoors, not like other churches I've been to. This is why I joined UUCIP when I returned to Florida.'
'We talked a lot about different churches before we decided the UU was for us. At UUCIP we knew we wouldn't be judged about anything, and the wonderful music fills my heart.'
'We were experiencing difficulty meeting like-minded people after moving to Florida. Neither of us had any experience with the UUs and very little knowledge of them. We have both discovered a place where we can be ourselves and explore different ways of being as well. Diversity is very important to us and we feel that the UU church aligns with our overall life outlooks in that regard.'
Ask a Question – Join the mailing list
Complete the following form
Or, email your information to UUChPines @ gmail.com (Remove spaces in the address.) You will receive an answer or acknowledgement very soon.